George Larkou, CEO Impact Tech LTD
Big Data and AI researcher, entrepreneur, co-founder and CEO of Impact Tech LTD. Multi award-winning George Larkou will judge at this year's hackathon and brings a wealth of competition experience to this year's event. In March 2013 he was part of the team that won Microsoft's Imagine Cup that went on to represent Cyprus at the world finals in Russia. In September of the same year he won the Startup prize at HACKCYPRUS 2013 as well as the Best Mobile Application Award. In April 2014, he followed up that success with 2nd place at the Microsoft Indoor Localisation Competition. He's also a published author and has led a number of highly successful projects including SmartLab, a testbed for testing smartphone network applications and created Rayzit, an award-winning crowd messaging technology, funded by Nokia and Microsoft Finland that delivers your questions, inquiries and ideas to the closest users around. In addition, George founded Lifey which increases successful response and survival rates following a medical emergency. Lifey participated in one of the most prestigious acceleration programs at Silicon Valley run by 500 Startups.
George Nikolaides , CTO Impact Tech LTD
George Nikolaides is co-founder and CTO of Impact Tech LTD and at the forefront of the company's technological innovation. He's a Big Data researcher and expert in Data Management Systems and Mobile development and can offer excellent insight on UX/UI design and development. He's also the go to for entrepreneurs looking to hone their 'project pitching' skills. George also co-founded Lifey, an app which increases successful response and survival rates following a medical emergency. Earlier he demonstrated his creativity and UX/UI in RecyclingCy a Windows phone app and collaborated on Rayzit, an award-winning crowd messaging technology that delivers your questions to the closest users around.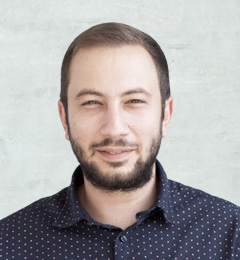 Stelios Pallis
After earning his Master's in Computer Science from the University of Cyprus, Stelios set out to realise his ambition of making his mark in the gaming industry. He found early success with the Android based title Sperminator which quickly reached 200,000 downloads on the Google Play store. His success brought him to the attention of a number of ambitious companies and lead to him taking up Lead Game Developer positions on titles such as Gift Panic and Magic Gifts. However, after 6 years in game development, Stelios' career took a new direction joining ImpacTech to work on Big Data and AI development on Impact CRM. Articulate and highly approachable, Stelios has demonstrated his mentorship and problem-solving abilities on a regular basis throughout his career.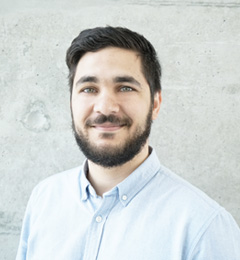 Panayiotis Christofi
Panikkos is an experienced SEM manager specialising in PPC and Programmatic Advertising. He's the go to for anyone curious about biddable media and new advertising channels and has extensive experience in the e-learning sector. His recent work on Google Sponsored Promotions Implementation proved particularly successful. It was the first time the work of a Greek or Cypriot organisation featured as a case study on Google's official blog. He is also credited with the creation and online promotion of the first MSc Digital Currency course hosted at University of Nicosia which is designed to educate on the technical underpinnings of digital currency.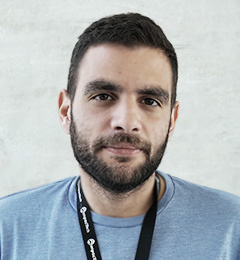 Christos Arvanitis
When Christos joined ImpacTech he brought with him years of experience in development operations (DevOps), automation and system architecture. He has also accumulated a wealth of experience in automating, testing and deploying cloud-native solutions in Openstack, AWS and Azure clouds. He demonstrates daily the best traits of a team player and is passionate about promoting best practices in designing, developing and deploying in a continuous, automated way. Christos also has significant experience with container orchestration, Infrastructure-As-a-Code tools and CI/CD pipelines.
Nikolas Pafitis
Nikolas is an experienced Front-End Developer and part of the core CRM team at Impact Tech with a wealth of experience working on complex projects. In addition to building rich web applications, he has experience in Systems Programming, Programming Language and Compiler Design, Networked and Concurrent Systems, logical programming and data science and AI. Nikolas is one of those people who easily falls under the description of constant learner. In his spare time, he pursues his passion for programming and is an active member of the Open-Source community. He continues to learn new skills and technologies, constantly striving to master all aspects of Computer Science.
Ioannis Dimitriou
Ioannis is an experienced Database Administrator who specialises in Business Intelligence (BI) and data visualization. He has accumulated many years of experience in database design, database security and the process of extracting measurable insights from data. He has built up an excellent track record of working on solutions that promote the usage of data insights to drive business decisions. He is a vocal advocate about following and promoting best practices for designing, developing and deploying data layer solutions. Currently, he is focused on deploying high performance real-time analytics database solutions.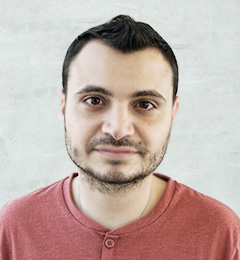 Daniel Ioannou
Daniel's early work experience was earned as an intern at 11pets, who developed an innovative pet care app. His collaboration with them continued through till graduating with Bachelor's in Computer Science from University of Cyprus. Soon after he joined ImpacTech as a Mobile App developer and has proved a powerhouse at developing native Android and iOS apps from scratch and updating existing apps. His role has expanded to include app performance monitoring using Apple and Google recommended tools and involves bug fixing, enhancing app performance and distribution of Android and iOS apps. He's a team player who demonstrates excellent collaboration skills with other departments and has thrived within the Agile development process. Daniel is life-long learner who stays up to date with new developments in mobile apps and expands his skillset through learning new technologies and frameworks that facilitate faster app development.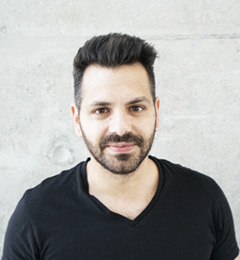 Constantinos Christoforou
Constantinos is one of those individuals whose presence within a team lifts its collective output. His understated determination and hard work have driven the success of online reservations app Booky that has helped thousands of users in Cyprus enjoy social occasions at restaurants, bars and clubs. Xplore Cyprus proved a similarly successful app with both projects demonstrating the importance of usability for successful execution of a good idea. Since joining ImpacTech, he has established himself as an indispensable member of the development team on Impact CRM, meeting every challenge while demonstrating impressive teamworking and organisational skills. Constantinos follows a path of constant learning, adding new skills and following new technologies as they emerge.
Ioannis Kourouklides
Ioannis Kourouklides pursued his Master of Engineering (MEng) at Imperial College London in Electronic and Information Engineering, with specialisation in Artificial Intelligence, Optimisation, Signal and Image Processing. He graduated in 2014 with a First-Class Honours and his thesis involved applications of Computer Vision and Machine Learning in Mobile Robotics. He received several academic scholarships and an industrial scholarship during his studies. In addition, he was awarded for his contribution to robotics education and volunteering activities by Imperial College. His industry experience includes an internship with Broadcom, as an R&D Software Engineer before joining Citigroup for his placement as a Software Developer. He subsequently joined the Centre for Medical Image Computing at University College London. He was funded by the Engineering and Physical Science Research Council (EPSRC) of the UK Government. In 2016, he joined the Sustainable Energy Laboratory at Cyprus University of Technology (CUT). He was a Research Associate funded by ENERFUND, a Horizon 2020 project of the European Commission (EC). Ioannis mentored at the First Open Data Hackathon, which was part of the EU-funded project by the Government of Cyprus for releasing data to the public, he also mentored at the Centre for Entrepreneurship at the University of Cyprus and ARIS, which is the idea incubator of Deloitte Cyprus. Currently, he is a member of the Data Science Laboratory at CUΤ conducting his PhD thesis in Algorithms, Artificial Intelligence and Machine Learning. He also leads the AI Team at ImpacTech, serving as Head of AI. In terms of policy making, he has been accepted as an official member of the European AI Alliance, a multi-stakeholder forum by the EC for engaging in a broad and open discussion of all aspects of AI policy and its impact on the economy and society. Finally, he is a founding member of Cypriot Scientists and Engineers (CySE), Limassol Hackerspace (LHS) and in the organizing committee of PyData Cyprus.
Cyprus Hackathon 2019
How is the hackathon judged?
Each submission will be scored in each round based on the following criteria with a minimum score of 0 and a maximum score of 25 points, with the final score being the average of the judges' scores:
Fundability: How fundable is this idea? Is there potential for a sustainable business model? Is this scalable? (0-5 points)
Execution: How well was the project executed and explained? Did they add a demo video? (0-5 points)
UI/UX: Beyond design, was the end-to-end user experience for the solution considered? (0-5 points)
Originality: : How original, creative or unique is the idea? Is there a competitive advantage? (0-5 points)
Scalability: Is there a diverse team presented? Do they have a range of complementary skill sets for the project? (0-5 points)
Read these. You don't want your brilliant work excluded on a technicality.
Fresh Code – We all start coding at the same time. It's cool to work on designs beforehand, digital mock-ups, open source frameworks, and anything else available to everyone, but keep things within fair limits.
Code Review – Winning teams may be subject to a code review at some point following the event or immediately before winning. This is to ensure that all code used is in fact fresh.
Ownership and IP – You own your IP and whatever you create.
Team Size – No more than five people.
Submissions – Each hackathon has its individual hackathon.io page where projects need to be submitted by the designated time. You'll receive an email with instructions on how to do that.
Demos – You'll have 2 minutes to demo the functionality of your project and talk through your idea, and 1 minute for Q&A from judges.
If your team already has a product, you need to build a new feature for it to eligible.
Be cool to your fellow hackers! Check out the Code of Conduct.